study
Retirement and Investing
Using SoundingBox, we learned how top retirement sites engage people and compel them to take action.
Financial firms are selling the promise of a secure financial future. Using SoundingBox we set out to explore what retirement sites are actually doing to help people feel better about where they stand and take proactive steps toward the future.
Tools that helped people track and compare how they were doing with retirement savings were highly engaging. People were more likely to take action on retirement sites that offered engaging tracking and comparison tools.
It felt like the site was designed for people like me.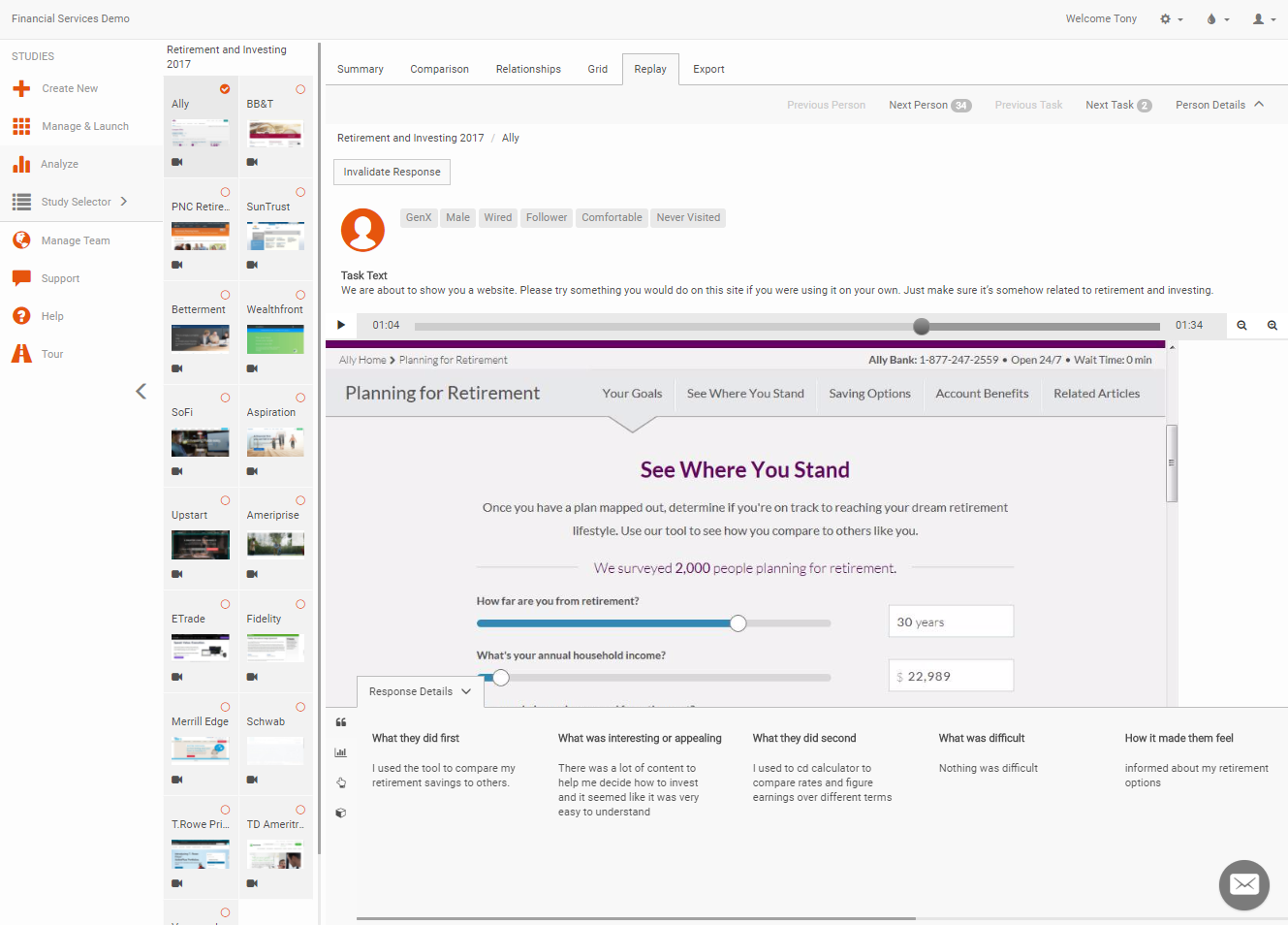 SoundingBox captures the extent to which a site compels people to take action, such as applying for an account, and how it relates to other indicators of a good experience, such as engagement. Top performing retirement and investing sites have a stronger relationship between action and engagement.
With a SoundingBox box subscription you'll learn:
What top sites are doing to build and strengthen attachment
How top sites ensure success for their customers, and one way that always gets people off-track
Why top-ranked retirement sites were consistently rated easier to use
Learn which features and elements top retirement sites are using to be more engaging
Why people reported that they'd be more likely to act on top-ranked retirement and investment sites
Ways to encourage action and how to hinder it
The sites in this study are:
Ally Bank
Ameriprise
Aspiration
BB&T
Betterment
E*Trade
Fidelity
Merrill Edge
PNC Retirement Center
Schwab
SoFi
SunTrust
T. Rowe Price
TD Ameritrade
Upstart
Vanguard
Wealthfront
SoundingBox makes it possible to discover which site performs best and why based on our user experience metrics. For example, there are 164 significant differences (p < .05) between sites. Some highlights include:
Schwab scored 12% better than TD Ameritrade for our attachment metric, which tracks positive emotions
Vanguard scored 16% better than Fidelity for our engagement metric
People felt 12% more successful on Schwab compared to Merrill Edge
Vanguard scored 16% better than E*Trade for connection, which asks the extent to which a site felt meaningful
People felt 11% more likely to return to Schwab than Ameriprise
Aspiration scored 22% better than SoFi for alignment, which tracks how strongly people identified with the brand
Get Access
Create your account and buy the 2017 retirement and investing study for immediate data access via the dashboard: $1,788 (includes a one year SoundingBox Pro subscription)
Upgrade during checkout and add a detailed expert analysis report: $2,500
Buy Study Access
Not ready to get study access yet but want to learn more? Request a demo or check out our resources.
Request a Demo