about
Recruiting Participants
Do you have a panel?
Yes, our panel consists of real, everyday people who reside in the US. Our panel skews millennial with mostly an even split of men and women. They embrace tech and social media.
Can I use my own panel?
Yes, if you are an enterprise customer you can share your study invitation link with your own customers. We will capture participants' email at the end and you can handle compensation through a service like PayPal.
Can I use a 3rd party panel provider?
Yes, if you are an enterprise customer. We have longstanding relationships with some of the leading sample companies, like Op4G, Peanut Labs, and SSI. Our panel partners can recruit participants, direct them to your study, and handle compensation.
How many people should I recruit?
Depends on the goal of your research. The bare minimum is 10. For your data to be statistically significant or to track a measure over time, we recommend at least 30 people per site, ideally at least 50 per site. A larger sample size may also help with credibility in your organization.
How do I choose criteria?
Criteria should be based on your target audience. If you're unsure, you don't need to target at all. Five general population demographic categories such as age and income are added by default when you create a study without targeting. If you choose to target, our target categories include the following areas.
Gender
Age
Education level
Employment status
Racial identity
Ethniticity
Sexuality
Household income
Net worth
Purchasing responsibilites
Tech and social media usage
Financial products
Health conditions
Living situation
Family
Political affiliation
Political views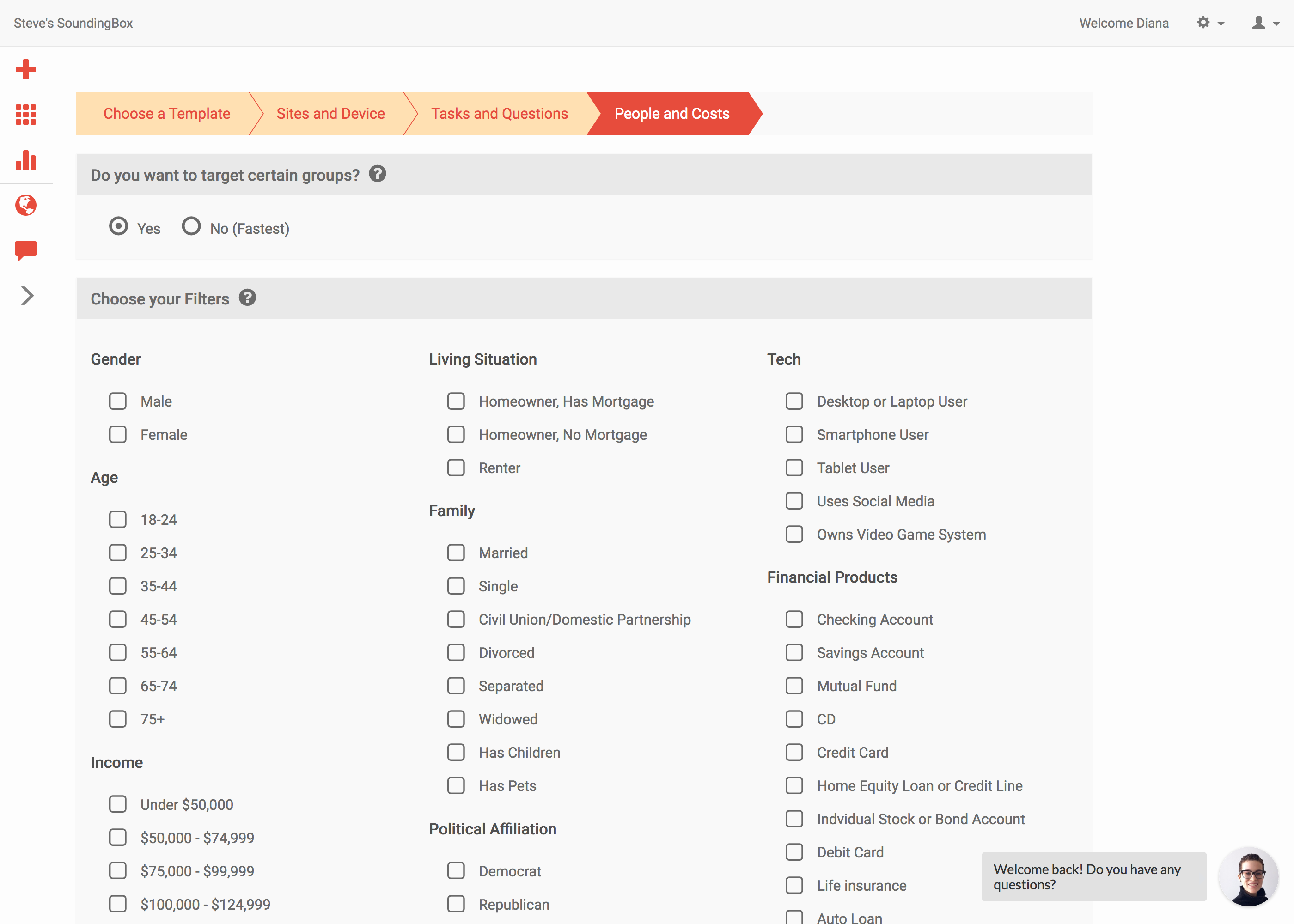 If you don't see targets that you're looking for just let us know. Chances are we can still get them, although costs may be higher.
Can I do international research?
Yes, you can create a custom study in any language. Although the SoundingBox dashboard is currently only available in English.
What is the participant experience?
Participants take your study by downloading and running a small app. For touch (mobile or tablet) studies, they are prompted to download our app from the App Store.